Frequently Asked Questions
LED signs are known in several names. Are they all the same thing?
Some of the other names that LED signs are often referred to as are information boards, digital displays, LED marquees or electronic reader boards. Although all of these refer to the same thing, you have to be careful about the difference in qualities available in the market. In order to ensure that your sign board lasts long, you need to be confident that you have the best quality LED sign.
What do I need to consider when investing in an LED sign?
Quality should be the number one priority in your list of things to consider before purchasing an LED sign. In addition to the sign quality, the quality of services provided by the sign company, the warranty period provided and the company's reputation are other important factors to consider. There are a few ways in which you can determine the quality of an LED sign: Pixel, Pitch, Matrix, LED viewing angle and LED brightness.
What are pixels?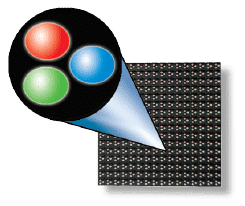 A collection of LEDs are known as pixels, which are an essential requirement for identifying the quality or resolution of an image. Each sign may have different number of pixels, and the number of LEDs in each pixel may also vary. An image with more LEDs per pixel will have a better quality and resolution.
What is a pitch?
The distance between every pixel is known as the pitch. A pitch can be 10mm, 16mm, 20mm or 25mm in size and smaller pitch distances produce better graphics and clear text at short distances. The pitch is also a deciding factor when determining the display's resolution. 10mm and 16mm distances have closer pixels, as a result producing a vivid image. When your target audience will be viewing your sign at a shorter distance, it is best to use tighter pixels. For longer distances such as a highway, a greater pitch is ideal.
What is Matrix?
A figure that expresses the number of pixels in an image in relation to its height and width is known as a matrix. For example, 24×64 is a matrix that identifies 24 pixels in height of a sign and 128 pixels in the width of a sign. By looking at a matrix, one can imagine the physical size of the signboard. The matrix also tells us the number of lines of text that can fit in the sign and also how many characters can be accommodated in each line.
How do I identify the best resolution?
By identifying the speed of vehicles passing by your sign and the viewing distance from the audience, you can determine what the best resolution is for your sign. For further assistance with regard to resolution needs for your sign, please call 877-776-2909.
How can I differentiate between the brightness of LEDs?
Always keep in mind that all LEDs are different and lower quality ones will have less brightness and may be difficult to notice on bright days. Brightness in an LED is an important factor because the light must compete with various intensities of the natural light during daytime. The brightness of an LED is measured in 'nits'. In the field of lighting, the visible-light intensity is expressed in terms of nits. The average brightness levels of televisions today range from about 400-500 nits, and for further understanding, the brightness of the sun is said to be 6500 nits. At LED Craft Inc, our signs consist of LEDs that are twice as bright as the sun so as to be visible even in the brightest of natural day lights.
Are LED signs expensive to run?
The biggest advantage of LED signs are that not only do they have a low initial investment cost but the operating costs of LEDs are also comparatively lesser than a traditional bulb. Outdated sign boards with incandescent bulbs are expensive and also inefficient to run, resulting in electricity bills shooting up to more than a few hundred dollars every month. On the other hand, a high quality LED sign will result in only a fraction of electricity bills. According to our statistics, an LED sign that runs 365 days of the year, 24 hours of the day, costs about $20-$30 a month. This amount may vary depending on the size of the sign.
How long lasting is an LED sign?
As mentioned before, all LED signs are unequal. Yet, with a high quality LED sign, the average life span can be estimated at approximately 10 years. Average lifespan of an LED lamp is measured by its brightness. When the brightness reduces by 50% of its original brightness, it's ideal usability ends. That is why it is important to start out with a lamp that has the highest brightness rating
Approximately how much will a good quality sign cost me?
The initial investment for an LED sign board may come as a shock to you but it should be considered as a business investment. Repeated research has shown that installing an LED signboard results in business increment in percentages ranging from 15-150%. Let us take a small business in US that generates revenue of about $1,000 per day. If we consider a minimum business increment of 15% as a result of the LED sign, this business can expect added revenue of at least $150 per day. Also imagine this business is functioning for 6 days a week, which adds up to $900 a week in extra revenue, and $46,800 for a year! Although the upfront investment of an electronic message center may be a bit of a burden on a business compared to other advertising methods, the returns on this investment will be seen much faster than other methods and will be consistent throughout the life of the LED signage. Also, radio, TV, newspaper and other forms of advertising have a higher average cost per 1000 exposures:
What is the warranty for your products?
Our products have five gold years of warranty, which is probably the best offer available on the market. We are proud to offer high end, state-of-the art products, and hence are completely confident that our products will exceed your quality expectations. In any case, if an issue may arise, these are the components that are included in our exclusive five year warranty: Replacement of any part that is not functioning,Online trouble shooting, Basic operational software support, Upgrades of drivers and software. Please feel free to refer to our warranty page for more details.
How will my LED sign be installed?
We have a network of connections all over the country to cater to our need for professional sign installers. A quick call and we can have these experts do the installation or any other sign related service within your location. For your reference, we will provide you with a list of installers around your place of work. If you have any further queries regarding the installation process, kindly contact your sales representative. For simple sign installation processes, we have compiled a set of do-it-yourself instructions that you can follow, which will also allow you to save a few more bucks on your sign. Based on past experience, many of our clients have informed us that these self install instructions are very helpful and easy to follow. Furthermore, our signs have inbuilt, user friendly software which will assist you in programming your sign. However, if you still have any concerns, your sales representative is the person to contact. Or you could refer to our online installation page for more details.
How can I make the software work?
The software included in our LED signs is extremely easy to use and you can program it yourself. No special equipment is required for this software to work, besides a simple PC. All you need is a well functioning version of Windows XP or newer on your computer and the program can be installed. At LED Craft Inc, we engineer customized software to suit our range of different controls on our LED displays.
Highlights of our software are as follows:
Advanced Video Conversion
Easy Image Uploads
100′s of Built-in Effects
Over 100 Dimming Variations
Easy Scheduling
Message Preview Windows
Advanced Video Tutorials In the package that we ship to our clients, we include two disks along with the LED sign.
One comprises the software program which you can download on your PC. The other disk has several different images and animations that you can use to make your sign more attractive. Our software information page has more details with regard to this discussion. For any further queries, kindly call our qualified support representatives. For customer support call 877-776-2909
How is servicing of the signs done?
We are proud to offer our customers a front open cabinet where they can self maintain their signs. This facility also makes way for a simple, yet efficient exchange process for parts. If you choose not to make use of this cabinet facility, you may have to hire and external professional to repair your sign and access its internal components. This would cost an added $75-$125 an hour for labor. Take a look at our video's page for a self service video that might come in handy.
Do you have protectors for your signs?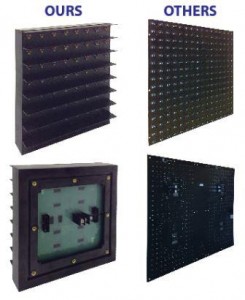 There are two main reasons why many of our clients inquire about covers (protectors) for their LED signs: vandalism and weather. Covers are made out of a material called Plexiglas. This material is not always weatherproof because moisture build up may be common, hence blocking the visibility of your sign. Another issue that occurs with Plexiglas covers is that of the glare from the sun, again inhibiting visibility. However, if vandalism if your concern, note that 99% or more LED signs are never vandalized during their lifetime. In any case, if vandalism does occur, your insurance company should cover the occurrence and provide you with plenty resources for repair or replacement of the sign. LED signs manufactured by all manufacturers take into consideration natural hazards and therefore incorporate weather guards which protect the sign from sun, hail and other natural forces. In addition to incorporating these protection elements such as silicone and weather grills for our LEDS signs, we also meet the best industry standards for visibility, brightness and overall quality of end product.
Do your signs include temperature detection?
Yes our signs do include an option for temperature reading. By using this option, many businesses successfully turn their signs into a kind of landmark. This is made possible because people always want to know what time it is and how hot/cold the weather is. Therefore, individuals who pass by your sign look at it without fail for time and weather information and in the meantime, they also read the messages displayed with regard to your business promotions Please contact your sales representative for further information.
How do I select the best sign for my business?
In addition to the location of your sign and the desired message to be displayed, there are many other factors that you should consider when determining the perfect choice of LED sign for your business. The best way to do so is to speak with our highly qualified sales representatives who will ask you a few related questions and then help identify which sign will best fit your requirements
How long lasting is an LED sign?
LED Craft Inc sells high quality LED signs that have proved to last for more than 11 years, and up to 100,000 hours. However, this figure of actual life span will vary depending on other external conditions.
Are there any financing options available?
LED Craft Inc offers our customers a variety of finance options, which also include a 0% interest scheme. For further details you could speak to your sales representative or have a look at the financing page of the website.
How is LED Craft Inc any different from others in the industry?
Amongst many other characteristics, two of the most important ones are that we offer the best pricing as well as customer service compared to any other firms in the industry.
Manufacturing cost reductions passed on to consumers: factory direct pricing
LED Craft Inc has been the leading firm in the industry for more than 15 years
Member of the BBB, hence maintaining an A+ rating
Owners of an ETL Certification
Our products are amongst the top of the line LEDs available on the market
Take Mother Nature into account while producing silicone sealed LED modules
All products are manufactured in the United States of America
Astonishingly extruded steel cabinetry available for customers
Strong testing procedures carried out before every item is delivered
Cabinets are front open to enable simple and efficient servicing
Exclusive five year gold warranty on all products
Our team of experts are committed to producing state-of-the-art products and providing extremely satisfying customer service
If you still aren't convinced about why LED Craft Inc is the best option for your sign board needs, visit our 'Why LED Craft' page on our website and read further.
Do you cater to permits and engineer specifications?
You don't have to worry too much about this. If your existing sign is not going through any significant change in terms of size and location, a permit is not required. Yet, in the case that a permit is needed, our team of qualified individuals will help you with all the required documents for obtaining a permit for the installation of your new LED sign. In addition to the required documents, our experienced professionals will create any engineering drawings or specifications required. This will result in a $500 cost saving or more that would otherwise occur in hiring an outside professional to do the job.
Where do I go for product and software support?
We have several qualified professionals on board who have years of experience in handling all kinds of situations. If you have any issue or questions with regard to your sign or the programming software, please feel free to contact our customer service team and we will be more than glad to help.
For customer support call 877-776-2909
About LED Craft Inc?
LED Craft Inc. is an industry leader in LED message display manufacturing and we are located at the center of the United States. Our main focus is to maintain state-of-the-art quality for all the products manufactured by us. Our products range from LED displays to customized signs for outdoor and indoor use. We are experienced enough to be able to handle all sorts of challenging advertising needs that many businesses face. After 15 years of committed service in providing LED displays, we are proud to express our position as industry leaders today. With consistent innovation and efficiency as our main research aim, we work towards reducing manufacturing costs, passing these cost reductions to our consumers, while also maintaining high end quality in our products.
Cost Per 1000 Impressions
So as you can see, an electronic message center is the best deal you can find!
If you want to talk to us about Digital Billboards for your business,
or you just want to say hello, we'd love to hear from you
Call us today on (844) 533-2723 or send us a message