Indoor LED Signs – Chicago, Illinois
Indoor digital signage
guarantees effective communication
Enhance customer experience with attractive and engaging LED displays!
Every company in Chicago, Illinois must have a business plan that includes a budget for adequate indoor LED signage. In today's competitive environment, it is important to create a stunning first impression as customers step inside a store or organization. From small to medium-sized to large multinationals, every company can benefit from this investment. The funds from signage budgeting can be spent on 2×8, 3×8 and 4×8 sized indoor LED displays to enhance the overall experience for a customer.
Ordering indoor digital signage in Chicago, Illinois from LED Craft Inc can do wonders for your business.
When evaluating the return on your investment, look beyond just the initial cost of installing an LED sign. There are so many long-term benefits of digital signage that can be shared across the lifespan of the signage, thereby resulting in a cheaper, yet more effective marketing strategy. With LED Craft Inc's cost effective solutions, the ROI will be more significant. Also, changing content on indoor displays is very flexible and convenient, without incurring additional costs.
Our in-house manufactured indoor LED signage is brighter and more colorful than traditional backlit signs. Your company will have more visibility with a vibrant sign, grabbing attention even from those passing by your store. No regular bulb or component replacement is required because LED Craft Inc uses high-quality components in their manufacturing, guaranteeing long-lasting indoor signage.
Every message your company presents to customers and employees is important. With an effective indoor LED display at your store in Chicago, Illinois, you are maximizing your reach in just one move. 2×8, 3×8 and 4×8 indoor LED signs with compelling graphics and visuals assist in bringing a positive environment within your organization.
Companies often disregard advertising campaigns on the whole because of the delay and expenditure in updating static images. However, with the digital transformation, LED displays placed in train/bus stations, shopping centers, gas stations, auto dealerships, churches, restaurants and other indoor environments can be updated from the comfort of an office, with just a few clicks. You can command real-time changes or schedule different messages to be displayed at different times of the day or week.
This flexibility and convenience make indoor digital signage one of the most practical advertising options available today. Whatever the external environment conditions may be, whatever the change in consumer trends may be, whatever the holiday schedules may be, LED displays can change as fast as required, as these are completely scalable to your needs.
On this note, targeting messages to different target markets within your store also becomes very easy. For example, a 2×8 indoor LED sign located in the electronic devices section can target the younger generation whilst a 3×8 indoor LED sign placed in a skin products section can target female ageing consumers. This kind of focused marketing campaigns can increase consumer engagement levels and do wonders for your business. Personalized greetings as customers enter a store can also go a long way in creating an impression and building loyalty to your brand.
Digital screens from LED Craft Inc consume less electricity over traditional signs, hence saving more costs for your company. Moreover, you can promote your company as a carbon footprint saving initiative and an eco-friendly brand because LED lighting generates less heat and requires less energy to operate.
The durable construction of our LED displays is less likely to experience failures. Once installed, they typically require very little maintenance and repair, which in turn saves your company money on service work.
Consumers are always attracted towards bright and visible LED signs. With bold text and high-quality graphics, you can convey messages that spur instant action and influence impulse buys. Moreover, flash sales and special promotions can always be updated in an instant to generate more traffic and purchases. By investing in indoor LED signs for your business in Chicago, Illinois, your brand will become recognized in providing an enhanced user experience and the power of word-of-mouth advertising has no limits. Appealing graphics, memorable information, and relevant content are key elements to ensure people know your name and recognize your brand.
Loved and trusted by industry leaders
"The sign is awesome. Customers have commented how much easier it is to find us off of Route 106, now that the sign is up. They enjoy the marketing notes and promotions that we post on the sign each day. The sign is a hit with all of our old & new customers -Thank you"
"We recently changed our main entrance from the west to the south after building a new auditorium. We added this sign at the new entrance. Almost everyone uses that entrance now, so our messages are seen much more often. Several in the community have indicated how nice the sign is."
Sammy W.
First Baptist Church
"Our new sign is the talk of our town. Our members have been engaged by people they work with and business people in the area about the church with the "fancy light up sign" Also, had an increase in walk in visitors who say they saw the sign, and had never even noticed there was a church here. We are very pleased."
"I cannot express enough the positive impact our new LED sign has made. We get comments ranging from "It's about time we got with it" to "Our church is the talk of Bella Vista!" I do believe that thanks to our "state of the art" sign that we will see a significant impact on our future attendance. Thank you for making our church one to come in and explore all God has to offer."
Bob W.
Bella Vista Christian Church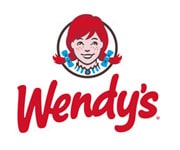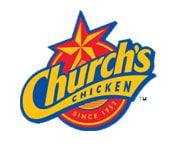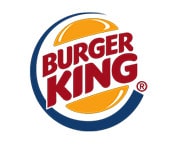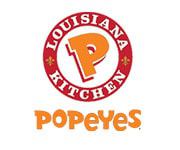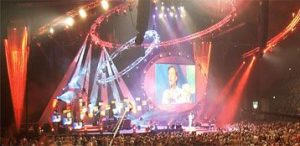 LED Panels
Our team of expert screen architects are highly skilled in installing LED video walls to enhance the look of any outdoor or indoor event.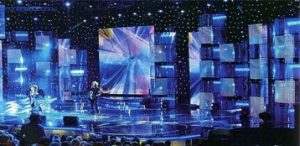 Stage Rental LED Signs
Our innovative stage rental LED signs can create virtual scenes, vivid color effects and abstract images to enrich the background of your stage show.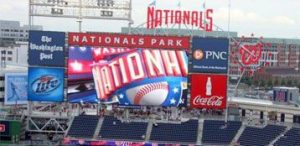 Stadium LED Signs
The skilled team of professionals at LED Craft Inc have designed stadium LED signs with a unique structure and top quality visual performance.
"Silent Salesman" is what indoor LED displays are often referred to as. Leave it upto your creatively designed sign to communicate with customers and create leads in selling products as well as guiding shoppers around your store and providing valuable product information. We have digital signs to fit very size options and with all color options to suit your theme for décor and marketing communication.
Here are some important benefits of having indoor LED signs throughout your store:
Customer attention can be drawn by placing attractive store signs customized to your specifications, depending on the location of the sign.
Signs are one of the first things noticed by a customer walking in or passing by your store. Empty space is all you need to create prime real estate for an indoor electronic sign that is sure to be noticed.
Indoor LED signs are known for doing so much for so little. Compared to how much work goes into producing them and designing content for them, the cost is quite little and the returns are massive.
If your business is aiming to provide top notch service to customers, go one step further and install indoor LED displays around your organization. There will most certainly be no regrets whatsoever.
An Indoor LED Sign connects not just customers but employees too
As important as it is to stay connected with your customer and enhance customer experience within the workplace, maintaining a connection with your employees is also that important. Indoor LED signs build up morale of your staff, enhance motivation of employees and as a result there is better productivity of workers.
One might think that the heavy investment involved with digital signage is too much. However, digital signage provides multiple benefits in the organization. A survey reveals that workplaces where employees are also engaged with digital signage results in an improved productivity by about 20-25% and this has a potential for approximately $1.3 trillion of annual revenue.
'Content is King': is it true?
In designing your indoor LED sign, there are a few important elements to keep in mind. Unlike in website marketing, content is not the top most priority here; it is the element of 'business'. We often get lost in the glamour of digital signage and in the process we forget that at the end of the day, it is all about 'business'. Even though an LED sign serves the purpose of providing information to customers and employees within a workplace, it is a business and it will generate a return on your investment. The true king with digital signage is the objective of the sign; what you want it to do?
What content would be ideal for indoor LED signs?
There are a whole bunch of options with regard to what kind of content you could display on your LED signs:
You can have indoor LED signs placed in each department to display a list of tasks, updates of projects, incentives for sales targets, and so on to connect with and encourage your employees.
Inspirational quotes, appreciating top achievers, etc enhances motivation within the workplace.
Social events and other activities can be announced through indoor LED signs.
You could connect the employees with the outside world by displaying a news feed or weather updates.
Information with regard to the business itself, new products or any new procedures that will educate your staff can be displayed on LED screens.
Rosters and reminders
By appointing an effective media manager, a company can, from one location, control all the messages displayed on indoor LED signs all across its stores in different regions. With one control center, the company is able to reach several thousands of people with the same message and can pre-schedule messages to be displayed in line with sales, new products, messages catered to different regions, different times of the day, preferences of each region, and so on.
Did you know?
Indoor LED Signs, when placed in public places such as malls and restaurants, have the ability to reach more people than online videos.
A TTV marketing survey has shown that 78% of businesses are currently making use of digital signage and from these businesses, half of them intent to increase their budgets allocated for LED signs.
With indoor LED signs, businesses are able to reach customers with the purpose of providing educational information as well as entertaining them while waiting to be served by an employee. This system is growing in popularity because it can make use of a fluid design to target customers. It solves the critical issue of being able to get the right message across to the right people and the right time and place. The firm has complete control of what message is being displayed to customers at any time and location.
Below are a few further statistics to show that digital signage is proven effective. Recall rates of different marketing methods: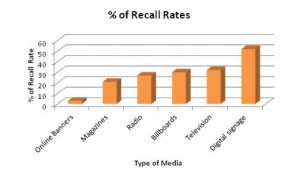 More statistics on why signage is important for your business
Your brand is more than just a name and a logo; it is an entire experience that decides whether or not a customer will remember you and want to continue business with you. Your brand should overcome your business in all aspects: websites, newspaper ads, magazine, billboards, indoor LED signs and so on.
Recent surveys conducted by institutes and universities in USA have shown the following:
Over 75% consumers said they had visited stores for the first time only because of its signs.
Almost 75% of participants mentioned that they had discussed a business with others only because of its signs.
Approximately 68% consumers think that the quality of a business's products or service can be told by observing its signage.
Nearly 67% of survey participants had previously purchased a product only because they saw an attractive sign about it.
A shocking 60% of consumers would not enter a store or business if there was no sign near it. In fact, 50% even said that if the signage was poor, they would not enter that store.
60% businesses that participated in the survey reported that regularly changing and enhancing their indoor signage positively impacted sales and overall profits.
While most small businesses thought indoor LED signage helped their business stand out, larger companies depend on LED displays more to create a brand image.
The most important characteristic of a sign was 'legibility', as stated by consumers as well as businesses.
LED signs are a guaranteed way of continuous advertising for your business. They work 24 hours a day, 7 days a week.
If you want to talk to us about Indoor LED Signs for your business,
or you just want to say hello, we'd love to hear from you
Call us today on (844) 533-2723 or send us a message