Introduction
When creating attractive outdoor LED signs, the most important factor we believe is to get the colors right. In order to make your sign easy to read and understand, one needs to study the basics of colors. There is a combination of factors that harmonize your sign to make it eye-catching.
Importance of Selecting the Right Colors for Outdoor Signs
Comprehending which outdoor signs colors will stand out and what message each color indicates is important in the color selection for your brand and advertising message. Two fundamental factors should be kept in mind: attraction and clear communication. Advertisers must use colors that attract attention and that have an implied meaning in relation to their brand or message.
LED Craft Inc aims to provide digital signage investors with high quality solutions and assist in planning the right colors that won't just get your message across but will create a lasting impression as well.
Color Psychology
Color psychology is the study of hues from the perspective of a human mind. Color has a strong influence on our moods, feelings and behaviors. It is also important to keep in mind that an individual's experiences and culture will influence their feelings toward different colors.
As a general rule of thumb, colors such as red, orange and yellow are known as warm colors; which evoke feelings of warmth, but can also trigger feelings of anger and hostility. Colors blue, purple and green are often described as calm but can bring about feelings of sadness and indifference.
Things to consider when choosing colors for your sign
Color Contrasts
Always go for bold and high contrasting colors to get your message noticed!
Rule out the option of soft pastels for your outdoor sign color scheme. Instead, choose bright and bold colors that have a high contrast, look stunning, and successfully capture attention of passersby. Bright shades of green, black, red, yellow and orange are great for creating contrasts.
While colors that pop are great for advertising, combining certain bold colors may clash, leading to a difficult to read sign. Be sure to use colors that don't clash when designing LED signage content. Take into consideration the images being used in your outdoor LED advertisement, other text that needs to go in there, and then select the background color accordingly.
By contrasting colors, you are not only making your signage more attractive and vibrant, you are forcing others to gaze at it. Effectively selecting your colors is the best solution to get the most marketing power from your LED display.
The Color Wheel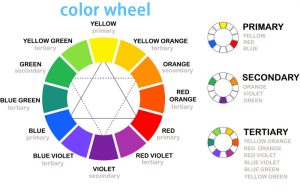 The color wheel is a chart based on a circle, representing the relationship between various colors.
Primary colors – red, yellow, blue
Secondary colors – orange, green, violet
Tertiary colors – yellow green, blue green, blue violet, red violet, red orange, and yellow orange.
Secondary and tertiary colors are complementary color groups created depending on how well the colors work together.
Overlay and pairing are contrast techniques used to change the appearance of color. Red tones on a blue background will cast a different hue as compared to red tones on a white or black background. Red inside black makes the red pop while red on white shrinks the red.
Hence when planning colors for attention grabbing outdoor LED signs, just pick a few that look good together, but have an optimal contrast too. Dark text on light background or light text on dark background will allow viewers to read messages clearly. Keep in mind: it must be attractive but also legible from far. Between the foreground and background colors, a brightness difference of at least 70 has the best legibility percentage.
Things to avoid
Avoid low-contrast colors as they make the messages difficult to read. If viewers have to squint to read your message, they probably might just avoid it.
Don't use colors that are next to each other on the color wheel. Orange and yellow, dark brown and black, pink and red for example won't be legible because they have similar hues.
Also avoid complementary colors such as red and green that are on opposite sides of the color wheel and have a good contrast but are very similar in values. Just like pink text on a red background will be tough to read because it blends well together, the same goes for green text on red background. Such colors create a vibration effect that can make one nauseous.
What are the best colors for an outdoor LED sign?
Alternating colors, with good contrast in hue and value, create the best combinations. Below are some examples of ideal color combinations in terms of legibility and effectiveness for outdoor LED signs.
Black, dark blue, gray, or red lettering on a white background.
White or yellow lettering on a black background.
White or yellow lettering on a dark blue background.
Black or red lettering on a light blue background.
Black, dark blue, or red lettering on a yellow background.
Yellow or white lettering on a red background.
Tip: Once a sign is designed and ready, print a prototype and put it out for testing. Get opinions about its view and legibility from various angles and distances.
Tips on how to use contrasting colors:
Red and blue – this combination guarantees maximum visibility because both are bright and simple. Add a white outline to the text for amazing attractiveness.
Yellow and purple are most suited for lawn care and landscaping advertisers.
Border your text with contrasting colors to avoid overwhelming your customers. This subtle technique works well in creating a twist for your LED sign.
If you have to choose two similar hues, or colors with similar value, add an outline to one of the colors to make it stand out well.
Conclusion
When designing your LED sign, it is important to pay special attention to the color of the text and background. Contrast the text with the background color to guarantee readability. Your ultimate goal should be to make sure the message pops, it has great visibility and is easy to read for your target audience.